If you are missing one tooth or several teeth, we can replace those teeth with dental implants that are designed to look and function just like your regular teeth.
Dental implants, unlike other tooth restorations such as dentures or dental bridges, do not require any specialized care. They can be brushed and flossed just like a real tooth, and are even resistant to staining and discoloration.
Dental implants, when cared for properly, will last for the rest of your life. It's common for dental implants to last 30 years or longer. In comparison, bridges usually last 5-15 years, and dentures sometimes last only 2-5 years.
Dental implants are indistinguishable from natural teeth. They look, feel, and function like your own teeth, whether you're chewing, smiling, or speaking. Restore your smile and your confidence with dental implants.
Dental Implants in Harlan, IA
An Affordable Dental Alternative
A dental implant is the closest thing to a natural tooth your dentist can give you. Take the first step toward restoring your smile with dental implants. Contact our office to schedule your consultation, and Dr. Hoch will be happy to discuss your options.
Treatment Options for Missing Teeth
Option 2: Removable Partial Denture
Option 3: Bridge (aka Fixed Partial Denture)
Whether you're missing one tooth or many, we have an implant solution to fit your needs.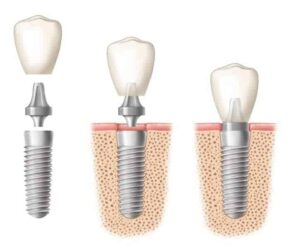 If you're looking to restore one missing tooth, we can replace it using a natural-looking dental implant. Your implant won't come out or shift position because it's surgically attached to your jawbone. The porcelain crown is custom-made to blend in with the rest of your smile.

If you're missing a longer span of teeth, and implant supported bridge can be used. Typically, two dental implants are used as the abutments to which a dental bridge of artificial teeth can be attached.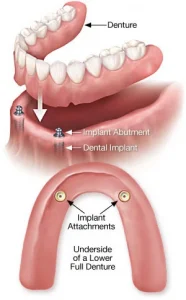 A removable implant-supported overdenture offers an effective tooth replacement option for people who are looking to restore one or both arches. A new or existing denture is modified to snap over the implants, securing it in place. With improved retention, you'll enjoy improved function, allowing you to eat, speak, and smile with ease, knowing your teeth won't slip out of place. You'll still be able to remove your overdenture for easy cleaning.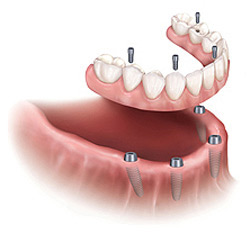 A fixed implant denture attaches permanently to 4-6 implants. It never comes out and never shifts in your mouth. These fixed prosthetic appliances are made of zirconia, so the teeth will never wear out and never stain. This low maintenance option is considered the gold standard in prosthedontic dentistry.

BOOK AN APPOINTMENT WITH US TODAY!